The Great Dive! A Half Year Low!
熊猫速汇PandaRemit - 79
Again! Down again! The Australian dollar is down again!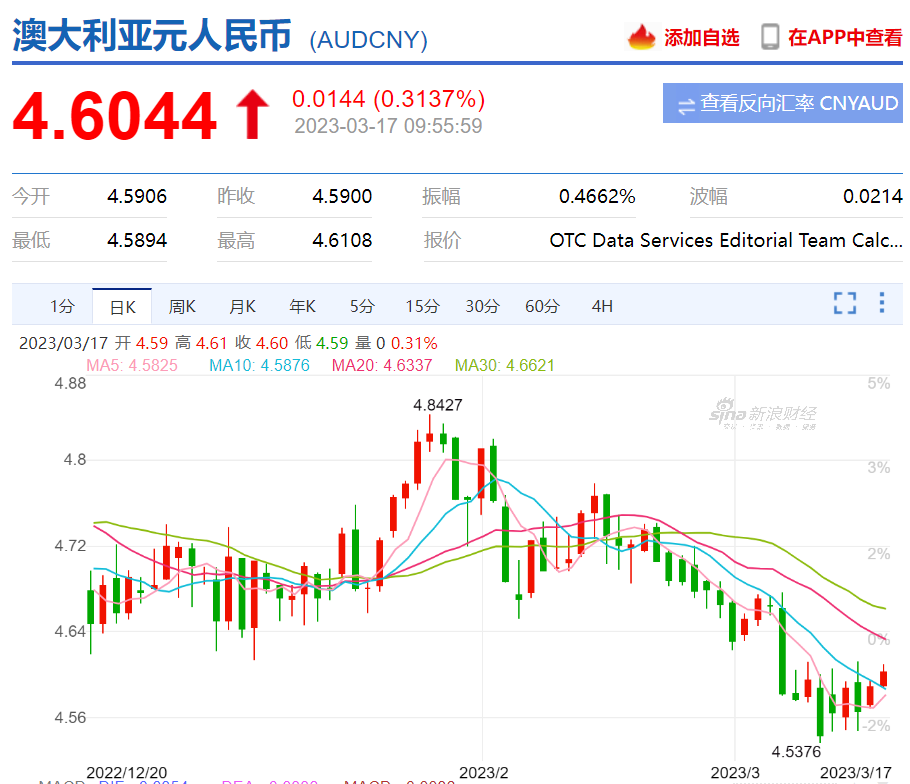 You know, just last month, the exchange rate of the Australian dollar against the Chinese yuan was high. After paying tuition fees, the exchange rate has begun to dive! As of Monday's opening, the exchange rate of Australian dollar against Chinese yuan was 1 AUD: 4.54 CNY, a new low in half a year!​​​​
Panda believe that recently many Australian Chinese and foreign students were lost in the analysis of the exchange rate of the Australian dollar.​​​​
Today, Panda will give you a detailed analysis of the reasons for the collapse of the Australian dollar and the investment opportunities behind it!​

Why keep falling?
Vicious Circle
The Australian dollar has weakened, leading to inflation.​​ In order to curb inflation, the Reserve Bank of Australia has raised interest rates ten times in a row.​​
However, Ideal is always better than reality. Far from curbing inflation, the rate hike has sent the cost of living soaring and the Australian economy into recession.​​
Under the vicious circle, the exchange rate continued to decline.
Double Blow
On March 8, Federal Reserve Chairman Powell's hawkish remarks stirred up waves in the global financial and money markets, and when he attended a hearing in the US Congress, Powell revealed a higher interest rate peak in the future and a faster pace of interest rate hikes, pushing up the dollar.​​​​
​​Subsequently, Philip Lowe, governor of the Reserve Bank of Australia, said they had begun to consider suspending interest rate hikes, but the timing depended on inflation and employment data. As soon as the comments came, expectations that the RBA would raise interest rates had cooled.
The Australian dollar weakened further, hit by a double whammy of rising interest rate hike expectations from the Fed and cooling interest rate hike expectations from the RBA.​​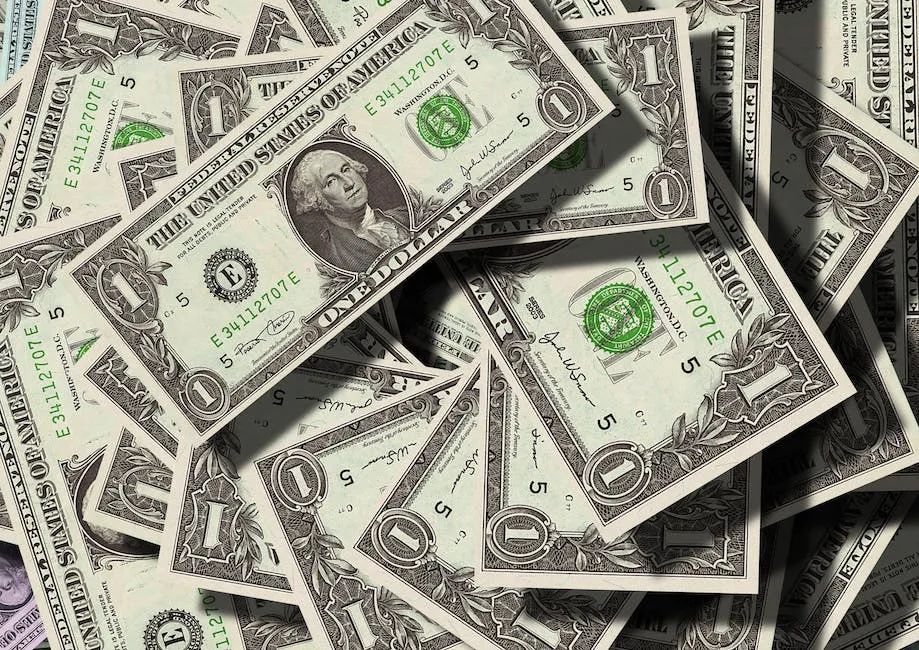 Less than Expected
​​China recently announced a modest economic growth target, but made no mention of plans for massive infrastructure and a real estate boost.
​​This means that the Chinese market for iron ore demand is not up to expectations. As the world's second largest economy, China is also Australia's largest export market, iron ore prices fell, and iron ore is of great significance to the Australian economy. With a low price for iron ore, the Australian dollar exchange rate made the most direct response - fell.

What's the Future of AUD?
Interest Rate Cut Expectations
​​On March 11, the bankruptcy of Silicon Valley Bank in the United States caused panic in the market and expectations of interest rate hikes cooled.​
Larry McDonald, a prominent investor, recently said that the collapse of Silicon Valley Bank could prompt the Federal Reserve to cut interest rates by 100 basis points by December to prevent the crisis from spreading through the financial system.​​​
The collapse of Silicon Valley Bank may be a constraint on the Fed's next interest rate hike, and the pace of the Fed's interest rate hike is expected to slow down, which may change the sluggish exchange rate of the Australian dollar.​​​
Oil Demand
Experts in ​​Bank of Australia and New Zealand (ANZ) said that, as the international market commonly used large product trading currency, the trend of the Australian dollar and international trade and large product trade is closely related. ​
Affected by the relationship between Russia and Ukraine, Russia's oil production cuts, coupled with the damage to natural gas pipelines, have led to oil and gas shortages and rising prices.​​ As an energy exporter, Australia would benefit.
Reopening China's Borders
Paul Mackel, head of global FX research at HSBC, said: "A re-opened China could provide substantial opportunities for a robust recovery in Australian exports of services." This has also helped the Australian dollar to rise.​​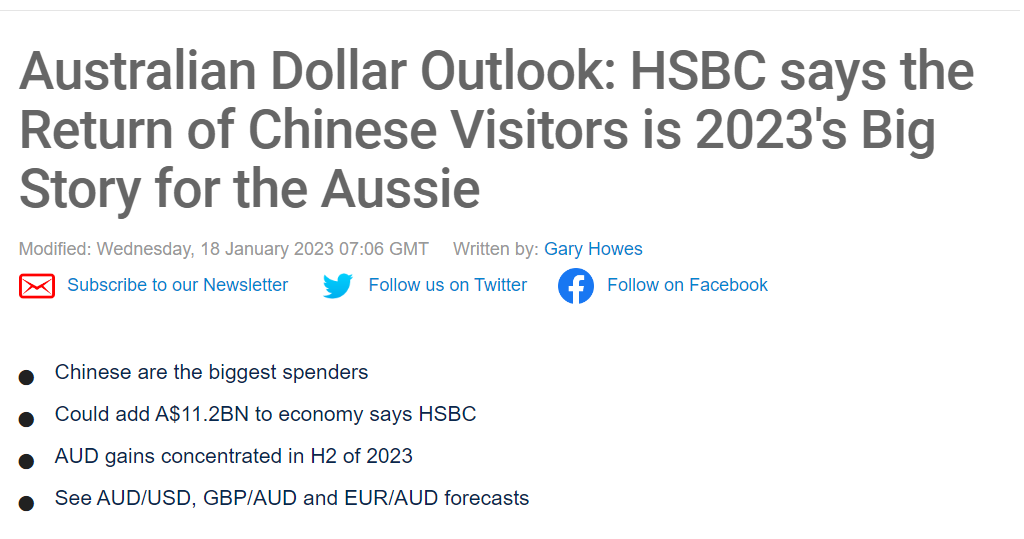 Source: poundsterlinglive​​​​​

What are the Chances?
The Real Estate Market
Australia's real estate market has always been the focus of global investors. The continued weakening of the Australian dollar could make the Australian property market more attractive. John McGrath, a well-known figure in the Australian real estate industry, said that due to the impact of successive interest rate hikes, Australian house prices have now reached their lowest point, and it is also the best time for buyers to buy at the bottom.​​

Source: heraldsun​
Resource Industry
​​Australia is rich in iron ore, coal, natural gas and other resources. As the Australian dollar weakens, Australia's resources sector may benefit, making its products more competitive. For investors who have the willingness to invest in resource industries, this is undoubtedly good news.
Education and Tourism
​​​​High quality educational resources and unique natural scenery are important factors to attract foreign students and tourists. For investors with plans to study abroad and travel, now is a good time not to be missed!
Stock Market
The stock market can be said to be the epitome of a country's economy, because the enterprises and companies whose stocks are listed on the stock market are one of the main producers of the economy. As one of the important investment markets, the Australian stock market includes local listed companies and some of the world's leading listed companies. The lower Australian dollar is likely to provide an entry for equity investors.
The above information is for reference only, and does not constitute investment advice.
Panda remind you that the market is risky and investment needs to be cautious!​ Before investing, you had better to make a full understanding of the market and investment products, in order to reduce risk and increase investment returns.​​
Silicon Valley Bank collapsed overnight, and the foreign exchange market change constantly. Panda reminds Chinese friends at home and abroad not only to be concerned about exchange rate changes, but also to carefully choose safe and reliable cross-border remittance methods.
About Us - Panda Remit
Panda Remit is a cross-border remittance online platform, which is committed to providing global users with safer, more convenient, reliable and affordable online cross-border remittance services. With user-friendly interface and advanced security features, Panda Remit is the best solution for anyone looking for a hassle-free way to make global remittance.
Panda Remit has the following features:
1. High safety degree - One of the key features of Panda Remit is its advanced security measures
All transactions are encrypted and monitored 24/7 to ensure the safety of your funds. What's more, Panda Remit uses state-of-the-art fraud detection technology to prevent unauthorized access from your account.
2. Convenient transfer environment - Panda Remit is equipped with currency calculator
The platform is available on Panda Remit official website or Panda Remit app, so that you can easily access your account and make transactions on-the-go. And users can transfer money in a variety of currencies,including US dollars, euros, HK dollars, pound, yen, etc,. Furthermore, it is also worth noting that Panda Remit provide 24/7 Chinese customer service, providing a familiar and intimate environment for overseas Chinese.
3.Simple operation process - Panda Remit has a user-friendly interface that makes it easy to navigate and use
Moreover, whether you need to pay bills or send money to friends and family in other countries, you just need to simply follow the operation tutorial provided by Panda Remit to create an account, link your bank account or credit card, and then you're ready to tranfer money globally. With just a few clicks, you can successfully send money to anyone, anywhere in the world you want.
4. Instant transfer - Panda Remit provides a quicker way to transfer money globally
Panda Remit is not only secure and convenient, but it is also fast. It allows for instant transfers between Panda Remit users, eliminating the need for waiting periods or processing times as much as possible. This feature is especially beneficial for people or businesses that require quick and efficient cross-border remittance.
5. Low handling fee - Panda Remit offers a range of exchange rates benefits to users
Panda Remit also offers competitive price compared to traditional remittance methods and other apps of the same kind. Thus, users can enjoy low transaction fees and competitive exchange rates and get high amount received when transferring money globally, which makes Panda Remit a cost-effective solution for individuals and businesses alike. Plus, the system would give coupons to first-time users.
In conclusion, Panda Remit provides a simpler and efficient online gloabl remittance way that offers a range of features and benefits to users. Nowadays, Panda Remit have opened global remittance service for more than 30 countries or regions worldwide, and helped users save nearly 100 million dollars in fees, which deeply recognized and trusted by millions of users around the world.
Panda Remit is the perfect solution for you to make cross-border remittance.
Please visit the Panda Remit official website or download the app, Panda Remit, for more detail information.