Panda Remit Defraud? Be Wary of New Scams!
熊猫速汇PandaRemit - 138

As a well-known global remittance tool, Panda Remit, since its launch, has swept the world with many advantages such as fast speed, high exchange rate, fund security, convenient remittance and transparent process.
[China Outward Remittance] Since its launch, it's highly praised by many users; However, even if the risk control system is strictly controlled, there are still lawbreakers who want to do illegal things. Just recently, Panda received users' feedback that the account amount was inexplicably deducted.
These fraudsters cheat users out of their personal information, then open accounts, create orders, and induce the customer to remit funds to the designated account; fortunately, the customer service staff noticed early and contacted the user; finally, with the help of the customer service staff -- all the funds have been safely returned to the remitter account.
In order to help you make a more secure remittance in the future, Panda will make the two fraud cases public, reminding family and friends at home and abroad to be careful. Do not to tell the verification code to others, and be beware of being cheated!
Be cheated ¥100 thousand in each platform , ¥200 thousand instant disappeared?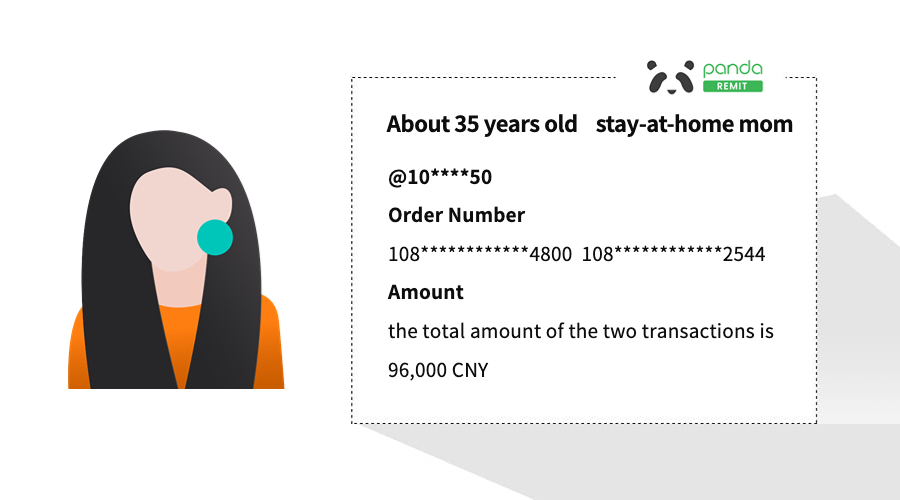 At the time of the incident, the cheater fooled the woman to search, download and install Panda Remit App, and induced her to complete personal real-name authentication account. After that, the cheater cheated this woman out of [verification code].
Before long, she received the message from China Construction Bank: two payments totaling ¥96,000 were remitted.
The woman who realized something was wrong immediately reported the case to the local police.
However, before the police started investigation, the customer service staff of Panda Remit has found the thing going in the wrong direction. Subsequently, the customer service staff timely telephoned to this woman and ask for more about this situation. When the customer service staff asked whether there are two payments remitted to Hong Kong, the remitter was surprised and excited to speak: " No!!!! ". And she said that she was cheated of ¥200 thousand !!
In other words, in addition to ¥96,000 remitted via the Panda Remit App, the cheater also defrauded this woman of an additional ¥100,000 through other platforms.
Finally, under the correct guidance of the customer service staff of Panda Remit, the remitter downloaded the Panda Remit App, logged in and contacted the customer service staff online - the two remittance orders were successfully intercepted, and money are expected to be returned to the original account within 3-5 working days.
When the remitter knew that the cheated money would be returned to her account, she thanked the customer service staff of Panda Remit repeatedly and wept excitedly, stating that she was in chaos during the care of the child.
A face recognition, within an inch of losing 50,000 CNY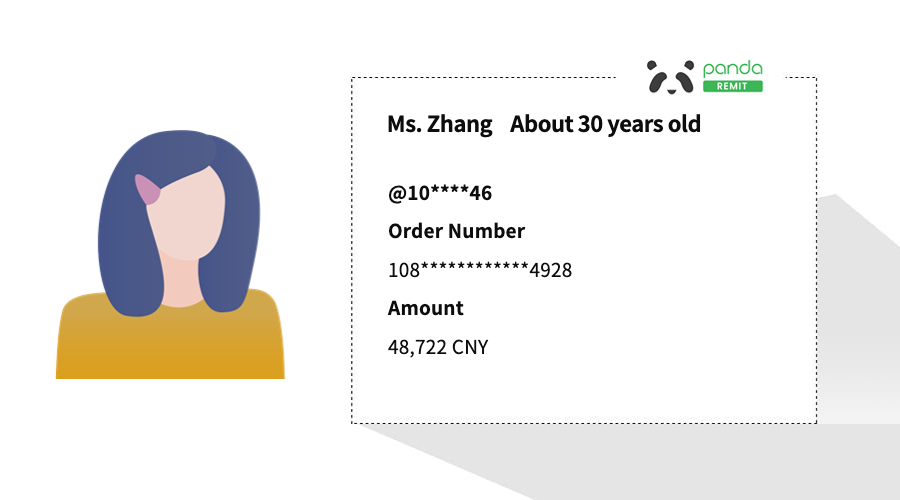 The cheater sent verification code to Ms.Zhang through many platforms, and persuaded her to provide verification code sent by [Panda Remit] ; Ms.Zhang did not think carefully initially; the cheater continued to coax Ms.Zhang into cooperating with the operation of face recognition.
After the successful face recognition, the cheater used Zhang's account to submit a remittance order of 48,722 yuan on Panda Remit.
Ms.Zhang immediately realized that she was defrauded. When she felt vexed, the customer service staff of Panda Remit called Ms.Zhang.
It turned out that the customer service staff of Panda Remit early detected the abnormality of the money, and timely contacted with Ms.Zhang. When asked whether remitted to Hong Kong, she said the cheater tried to guide her, and she had remitted the money when she realized it was a fraud.
Finally, under the guidance of the customer service staff of Panda Remit, Ms.Zhang successfully submitted the application for refund, and money would be returned back in 3-5 working days. This fraud did not succeed.
Here, Panda Remit solemnly remind everyone, in th
e case of uncertainty about the identity of the remitter,
Don't be easily at the mercy of strangers.
Don't disclose any personal privacy information to anyone other than your immediate relatives.
Especially when the stranger asks you to send the verification code, or make face recognition, be sure to repeatedly confirm the identity of the other party, beware of frauds. In addition, Panda Remit reminds that if you have needs of making cross-border remittance or exchanging for foreign currencies, you should carefully choose safe and reliable remittance products to avoid personal property losses.
About Us - Panda Remit
Panda Remit is a cross-border remittance online platform, which is committed to providing global users with safer, more convenient, reliable and affordable online cross-border remittance services. With user-friendly interface and advanced security features, Panda Remit is the best solution for anyone looking for a hassle-free way to make global remittance.
Panda Remit has the following features:
1. High safety degree - One of the key features of Panda Remit is its advanced security measures
All transactions are encrypted and monitored 24/7 to ensure the safety of your funds. What's more, Panda Remit uses state-of-the-art fraud detection technology to prevent unauthorized access from your account.
2. Convenient transfer environment - Panda Remit is equipped with currency calculator
The platform is available on Panda Remit official website or Panda Remit app, so that you can easily access your account and make transactions on-the-go. And users can transfer money in a variety of currencies,including US dollars, euros, HK dollars, pound, yen, etc,. Furthermore, it is also worth noting that Panda Remit provide 24/7 Chinese customer service, providing a familiar and intimate environment for overseas Chinese.
3.Simple operation process - Panda Remit has a user-friendly interface that makes it easy to navigate and use
Moreover, whether you need to pay bills or send money to friends and family in other countries, you just need to simply follow the operation tutorial provided by Panda Remit to create an account, link your bank account or credit card, and then you're ready to tranfer money globally. With just a few clicks, you can successfully send money to anyone, anywhere in the world you want.
4. Instant transfer - Panda Remit provides a quicker way to transfer money globally
Panda Remit is not only secure and convenient, but it is also fast. It allows for instant transfers between Panda Remit users, eliminating the need for waiting periods or processing times as much as possible. This feature is especially beneficial for people or businesses that require quick and efficient cross-border remittance.
5. Low handling fee - Panda Remit offers a range of exchange rates benefits to users
Panda Remit also offers competitive price compared to traditional remittance methods and other apps of the same kind. Thus, users can enjoy low transaction fees and competitive exchange rates and get high amount received when transferring money globally, which makes Panda Remit a cost-effective solution for individuals and businesses alike. Plus, the system would give coupons to first-time users.
In conclusion, Panda Remit provides a simpler and efficient online gloabl remittance way that offers a range of features and benefits to users. Nowadays, Panda Remit have opened global remittance service for more than 30 countries or regions worldwide, and helped users save nearly 100 million dollars in fees, which deeply recognized and trusted by millions of users around the world.
Panda Remit is the perfect solution for you to make cross-border remittance.
Please visit the Panda Remit official website or download the app, Panda Remit, for more detail information.