Change! New Requirements for Entry!
熊猫速汇PandaRemit - 158

Because of the combination of gradually stable epidemic situation and the warmth of spring in April, the popularity of cross-border travel is rising rapidly.
The door of the world has been reopened, and countries around the world have relaxed their entry restrictions and epidemic prevention measures. Panda believe that many people have put the "Cross-border Spring Outing" on their agenda. The May Day holiday is approaching, and Panda has kindly sorted out the newly updated entry policy. Mark it!
Mainland China: Resumption of Inbound Tours by Travel Agencies
On March 31, the Ministry of Culture and Tourism of the People's Republic of China issued a notice to resume the business of national travel agencies and online tourism enterprises operating inbound group tours for foreigners and "air tickets+hotels" from now on.
Recently, the popularity of inbound tourism has significantly increased. According to Ctrip data, the overall order booking volume of inbound tourism increased by 46% year-on-year from January to March this year, with inbound ticket booking volume increasing by 168% year-on-year and average price decreasing by 31%. Inbound hotel bookings increased by 27% year-on-year, and the average hotel booking price decreased by 14% year-on-year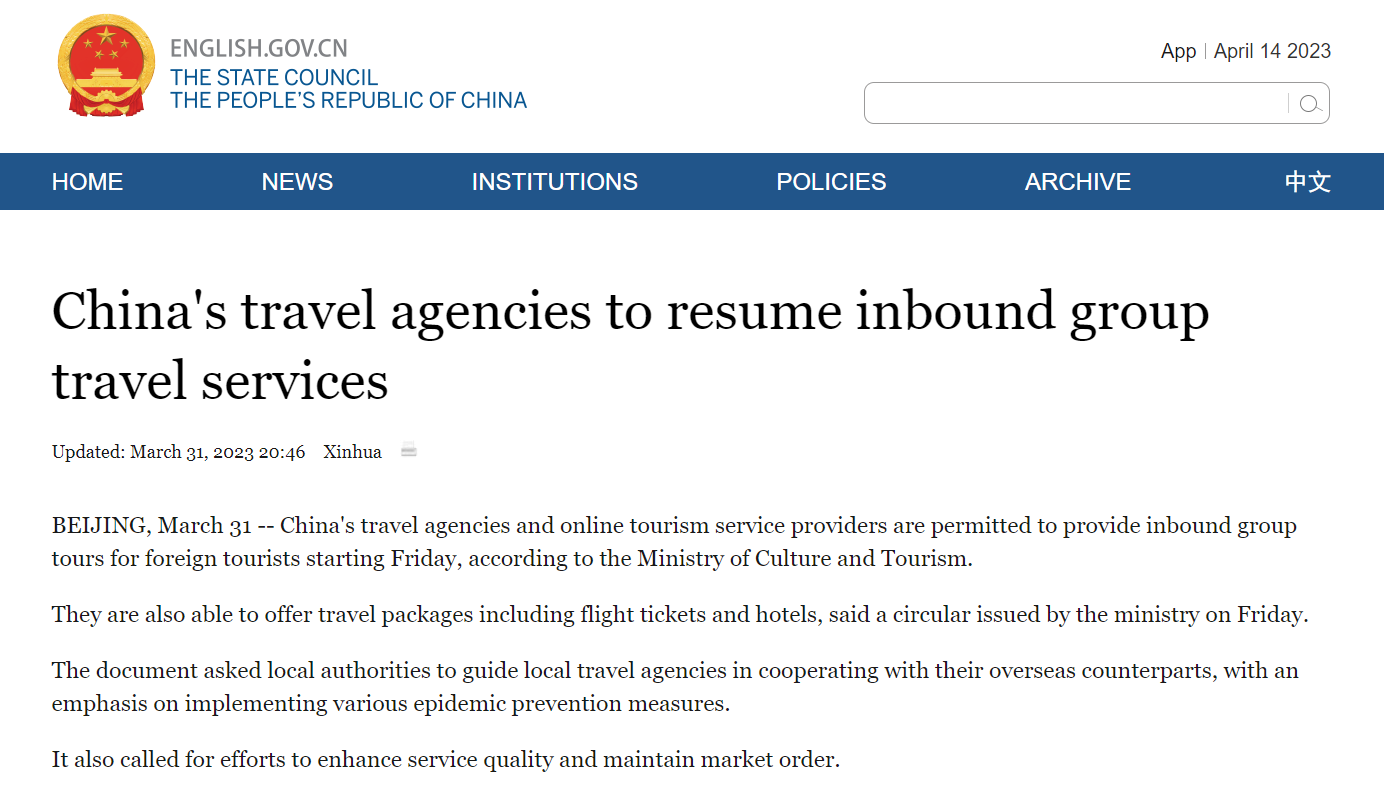 Source: http://english.www.gov.cn
In addition, Panda also noticed that at the recent press conference of the 133rd China Import and Export Fair (Canton Fair) held by the State Council Information Office of P.R.C., Wu Xi, director of the Consular Department of the Ministry of Foreign Affairs, said that starting from May 1st this year, APEC business card holders will be allowed to enter the virtual card. Before May 1st, if the virtual card holders want to come to China, Chinese embassies and consulates abroad can issue business visas for free.

Hong Kong, China: Cancel the Mask Order and Complete Full Resumption of Personnel Exchanges
On February 3rd, the Chief Executive of the Hong Kong Special Administrative Region, Li Jiachao, announced that Hong Kong and mainland China would be in full resumption of personnel exchanges from February 6th, opening all entry and exit ports, no limit the number of travelers, and no need to make reservations; cancel PCR test and other testing requirements before entry.
In addition, the Hong Kong Special Administrative Region government has announced the complete cancellation of the mask order starting from March 1st, eliminating the need to wear masks indoors, outdoors, and when taking public transportation. High risk areas such as hospitals and nursing homes can request to wear masks themselves.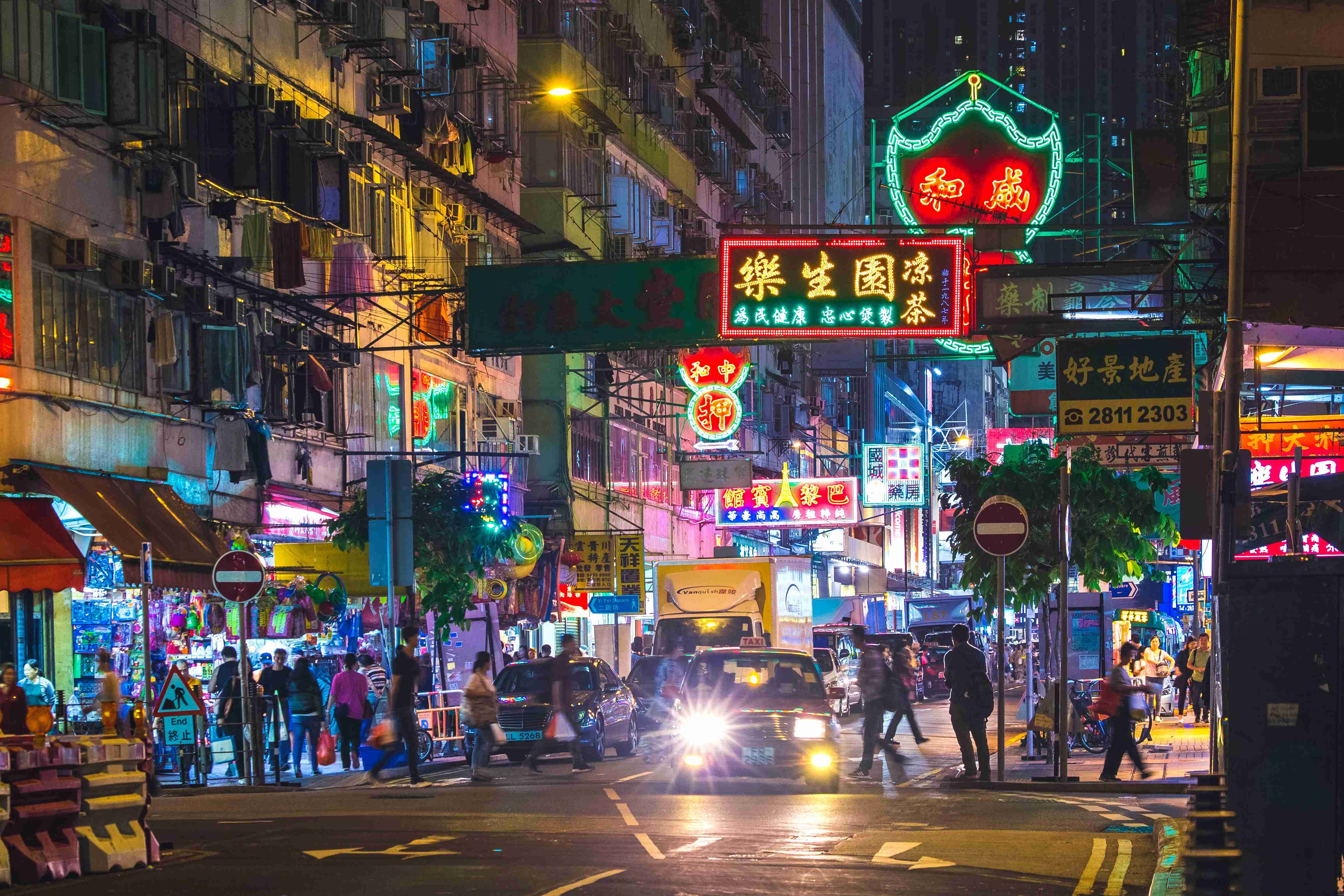 Japan: Random Sampling On Landing
According to the Japanese Embassy in China, from April 5th, passengers with valid vaccination certificates (three injections) no longer need to take nucleic acid testing before going to Japan. Besides, the epidemic control measures for travelers entering Japan are expected to be lifted on May 8.​
Personnel flying directly from Chinese Mainland to Japan may need to conduct a test (sampling test) when entering Japan. The maximum number of people who need to undergo testing is about 20% of those who enter the country. There is no longer a need to wait at the airport upon entry, and if they test positive, they can also be quarantined at home.
Note: Vaccines included in the World Health Organization (WHO) emergency use list (including Chinese vaccines) are considered as valid vaccination (three doses). For proof of effective vaccination (three shots), please refer to the website of the Japan government: https://www.mhlw.go.jp/stf/seisakunitsuite/bunya/border_vaccine.html​
Passengers who do not hold a valid certificate of vaccination (three doses) will still need to undergo nucleic acid testing within 72 hours before going to Japan and present a testing certificate issued by a medical institution. When conducting testing, please be sure to confirm the effective testing type and testing method. Throat Swab is not recognized.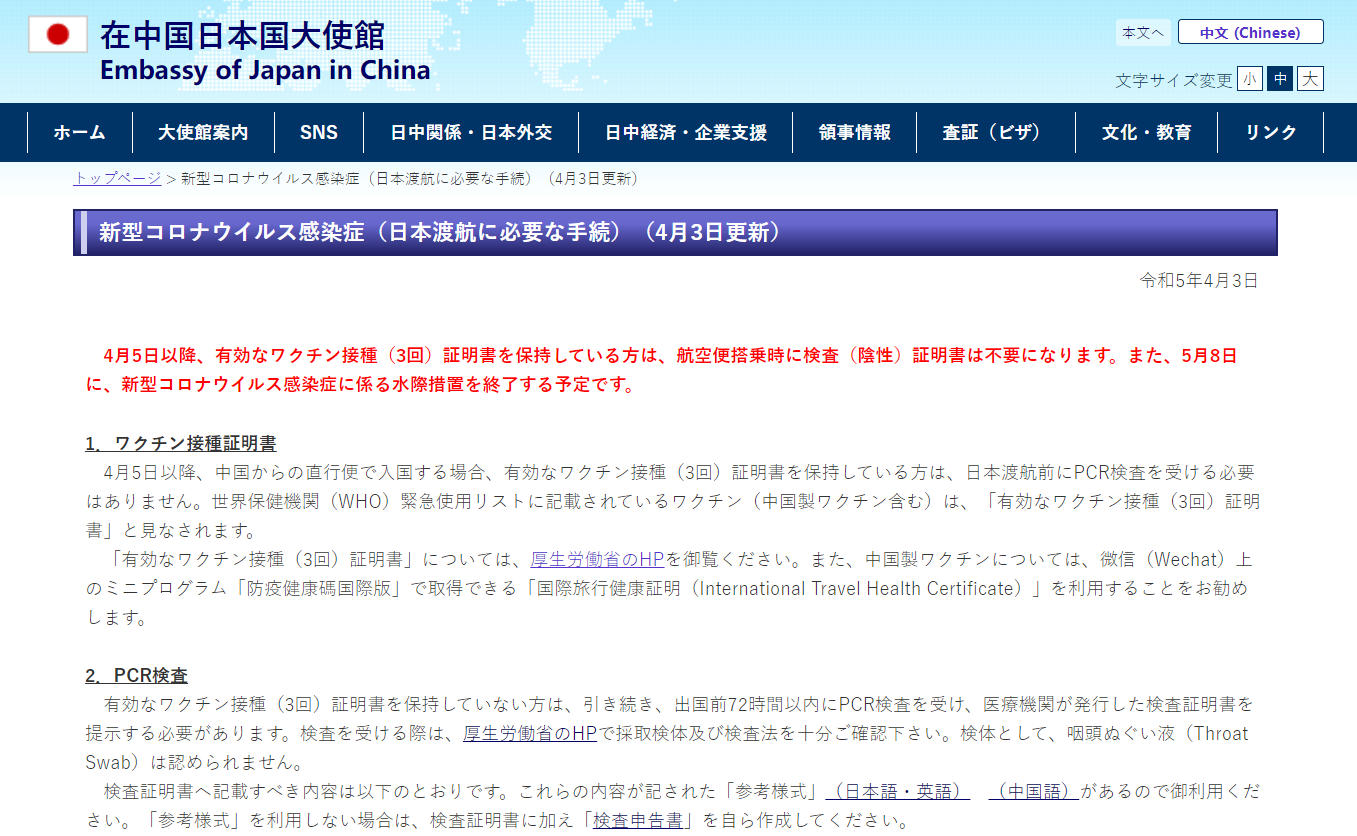 Source: https://www.cn.emb-japan.go.jp/itprtop_ja/index.html
In addition, Chinese vaccines need English certificates. Panda reminds you to log in the "International Version of Epidemic Prevention Health Code" mini program on WeChat in advance to get "International Travel Health Certificate".

The US: Complete full vaccination without nucleic acid testing
According to the website of the Centers for Disease Control and Prevention (CDC), from March 10, 2023, the requirement for air passengers from China (including Hong Kong and Macao Special Administrative Regions) to show COVID-19 test negative or recovery documents before boarding flights to the United States would be canceled. However, it is necessary to show the certificate of full vaccination of COVID-19 vaccine before boarding.
This means that if you are fully vaccinated, there are no need to do nucleic acid tests before going to the United States.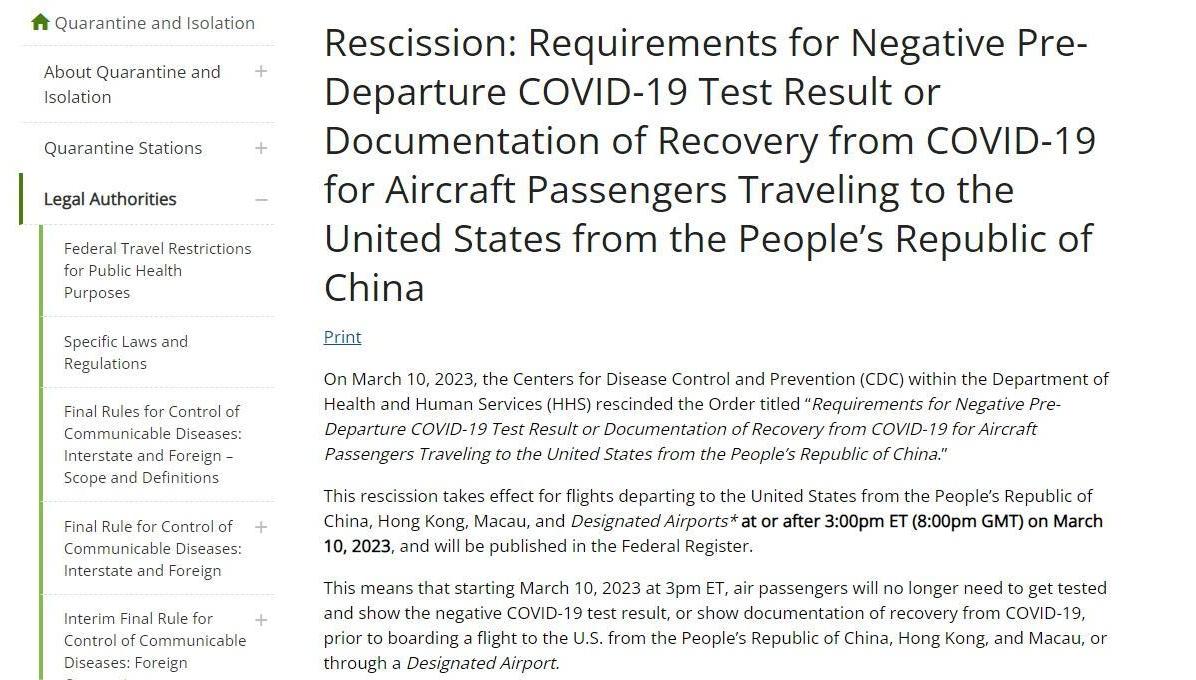 Source: the official website of the Centers for Disease Control and Prevention

Singapore: Fill In the Singapore Arrival Card In Advance
From 13 February 2023, no COVID-19 measures would be applied to passengers arriving in Singapore regardless of their vaccination status. However, the Singapore Arrival Card must be completed three days before arrival.

Canada: No Need For Negative Proof of Nucleic Acid Test
Health Canada announced that with effect from 12: 01 a.m. Eastern Time on March 17, 2023, passengers travelling from China (including Hong Kong and Macao SARs) to Canada will no longer be required to provide a negative nucleic acid test before boarding.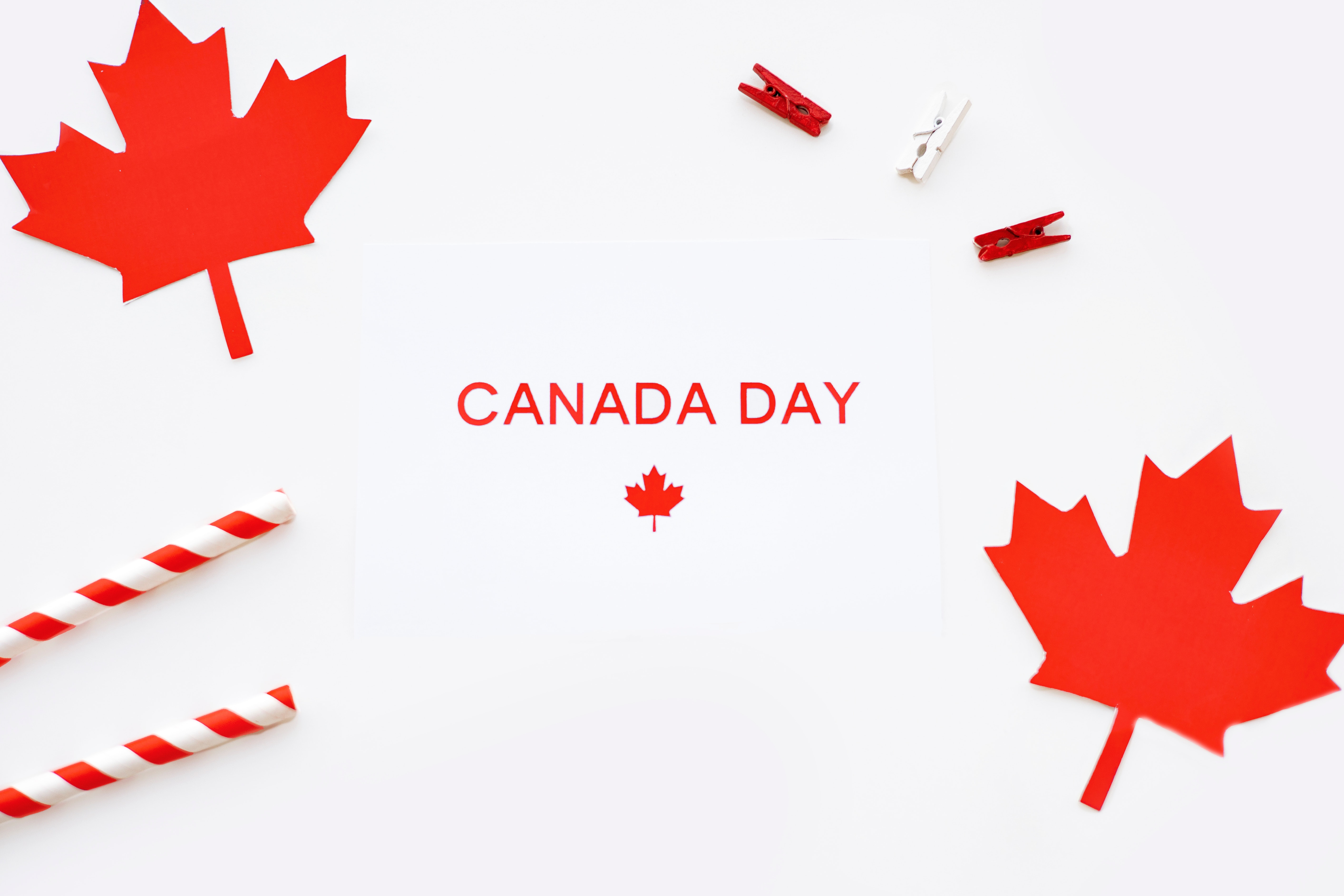 New Zealand: No Pre-Trip Testing and Reporting of Results
In the near future, all passengers arriving in New Zealand, including the crew, no longer need to be vaccinated against COVID-19 and tested. Before entering New Zealand, passengers will no longer be required to conduct pre-travel tests and declare test results. However, it is strongly recommended to vaccinate before going to New Zealand.
At this stage, New Zealand visa processing time is significantly longer than before the epidemic. Panda suggests those who have travel needs to submit visa applications as soon as possible. The visa processing time and relevant regulations can be viewed on the official website of the New Zealand Immigration Bureau.
Australia: Eliminating Negative Certificates
The official spokesperson of the Australian Department of Health and Aged Care announced that Australia started at 12:01 am on March 11, 2023, canceling negative reports of China (including Hong Kong and Macao) entering Australia.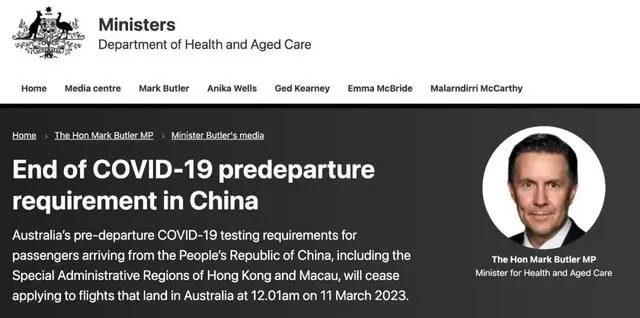 Source: the official website of the Australian Department of Health and Aged Care

Europe: Phase Out the COVID-19 Testing Measures
The United Kingdom: With effect from April 5,2023 (local time in the UK), the previous pre-entry COVID-19 tests for Chinese mainland travelers to England will be lifted.
Source: https://www.gov.uk/
Italy: Starting from March 1, 2023, Italy would lift all entry restrictions on China and no longer need to provide negative nucleic acid test reports before entering the country. After entering the country, there is no need for nucleic acid screening.
Sweden: From February 18, Sweden would remove temporary restrictions on people entering from China.
France: From February 18, France decided to lift entry restrictions for passengers from China.
Panda's Friendly Reminder: Entry policies have certain timeliness and may be changed at any time, so the above information is for reference only.
People who have the need to travel overseas or return to China in the near future, please pay close attention to the entry-exit policies and exchange rate fluctuations in time to avoid delays or unnecessary economic losses.
About Us - Panda Remit
Panda Remit is a cross-border remittance online platform, which is committed to providing global users with safer, more convenient, reliable and affordable online cross-border remittance services. With user-friendly interface and advanced security features, Panda Remit is the best solution for anyone looking for a hassle-free way to make global remittance.
Panda Remit has the following features:
1. High safety degree - One of the key features of Panda Remit is its advanced security measures
All transactions are encrypted and monitored 24/7 to ensure the safety of your funds. What's more, Panda Remit uses state-of-the-art fraud detection technology to prevent unauthorized access from your account.
2. Convenient transfer environment - Panda Remit is equipped with currency calculator
The platform is available on Panda Remit official website or Panda Remit app, so that you can easily access your account and make transactions on-the-go. And users can transfer money in a variety of currencies,including US dollars, euros, HK dollars, pound, yen, etc,. Furthermore, it is also worth noting that Panda Remit provide 24/7 Chinese customer service, providing a familiar and intimate environment for overseas Chinese.
3.Simple operation process - Panda Remit has a user-friendly interface that makes it easy to navigate and use
Moreover, whether you need to pay bills or send money to friends and family in other countries, you just need to simply follow the operation tutorial provided by Panda Remit to create an account, link your bank account or credit card, and then you're ready to tranfer money globally. With just a few clicks, you can successfully send money to anyone, anywhere in the world you want.
4. Instant transfer - Panda Remit provides a quicker way to transfer money globally
Panda Remit is not only secure and convenient, but it is also fast. It allows for instant transfers between Panda Remit users, eliminating the need for waiting periods or processing times as much as possible. This feature is especially beneficial for people or businesses that require quick and efficient cross-border remittance.
5. Low handling fee - Panda Remit offers a range of exchange rates benefits to users
Panda Remit also offers competitive price compared to traditional remittance methods and other apps of the same kind. Thus, users can enjoy low transaction fees and competitive exchange rates and get high amount received when transferring money globally, which makes Panda Remit a cost-effective solution for individuals and businesses alike. Plus, the system would give coupons to first-time users.
In conclusion, Panda Remit provides a simpler and efficient online gloabl remittance way that offers a range of features and benefits to users. Nowadays, Panda Remit have opened global remittance service for more than 30 countries or regions worldwide, and helped users save nearly 100 million dollars in fees, which deeply recognized and trusted by millions of users around the world.
Panda Remit is the perfect solution for you to make cross-border remittance.
Please visit the Panda Remit official website or download the app, Panda Remit, for more detail information.