6 Reasons For Choosing Panda Remit Money Transfer App
熊猫速汇PandaRemit - 2023-05-31 17:44:18.0 410

Have you ever faced the situation of sending money abroad - sending money with one currency and
receiving funds with another currency in the recipient account. Making the remittance through the bank often takes longer to receive the funds with relatively expensive fees; people bear a high risk of
losing money if entrusting a private exchange agency to make the remittance.
Panda Remit - an online money transfer App, could be another option for you if you've ever had to face those experiences before.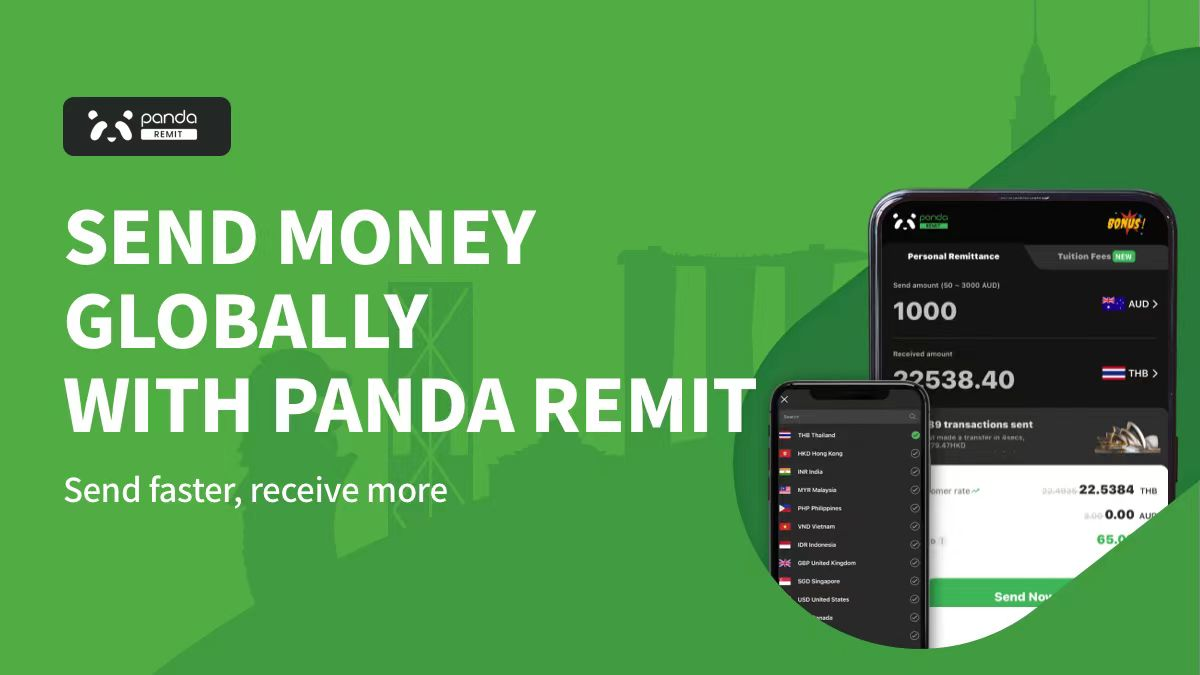 Panda Remit is an

Online Money Transfer App

. Users are able to make the remittance through the moblie phone.
It provides an efficient and fully secured cross-border money transfer service. Panda Remit is aimed at assisting users to exchange and send money all over the world for the price of a cup of coffee, especially for those who work and live abroad.
Currently, It has assisted more than 10 million users worldwide to complete remittances successfully. The App allows users to send funds to more than 30 countries in a legal and compliant manner. The various payment methods (i.e. debit card, E-wallets and UPI ) and diversified currency categories (i.e. USD/ AUD/ THB/INR etc.) provided by Panda Remit are attracting users to choose Panda Remit to send money worldwide.

Why Panda Remit?
1. Easy To Use
The interface design of Panda Remit is very friendly and easy to understand. Users are able to register
an account via email/phone number in seconds and open a Panda account in a short time.
The App also guides the user to complete the remittance with an excellent user experience. Also, the
user can keep abreast of the latest industry trends and market exchange rate fluctuations through the
Panda Remit App.
2.Trusted Money Transfer App
Panda Remit's business partners are authoritative and well-known that include Alipay, World Pay, WeChat, Mastercard, Sequoia and Trustpilot etc. It uses State-of-the-art Security Measures to ensure the security and compliance of funds. Users are allowed to conduct Multi-factor Authentication, Encryption, and SSL Security Protocols to secure each payment.
3.Low Fee & Attractive Exchange Rate
Panda Remit offers an efficient money transfer service while keeping costs low with an attractive rate. It conducts the promotional activity of ZERO FEE for New users' first remittance. Users always receive diversified coupons to send money with an even lower fee. (i.e. Cash Coupon, Holiday Coupon, Rate Coupon etc.)
Also, the exchange rate provided by Panda Remit is pretty competitive, and the ranking of Panda's exchange rate is always at the Top 3 in the Rate Comparison Websites (i.e. Compareremit.com; Monito.com.)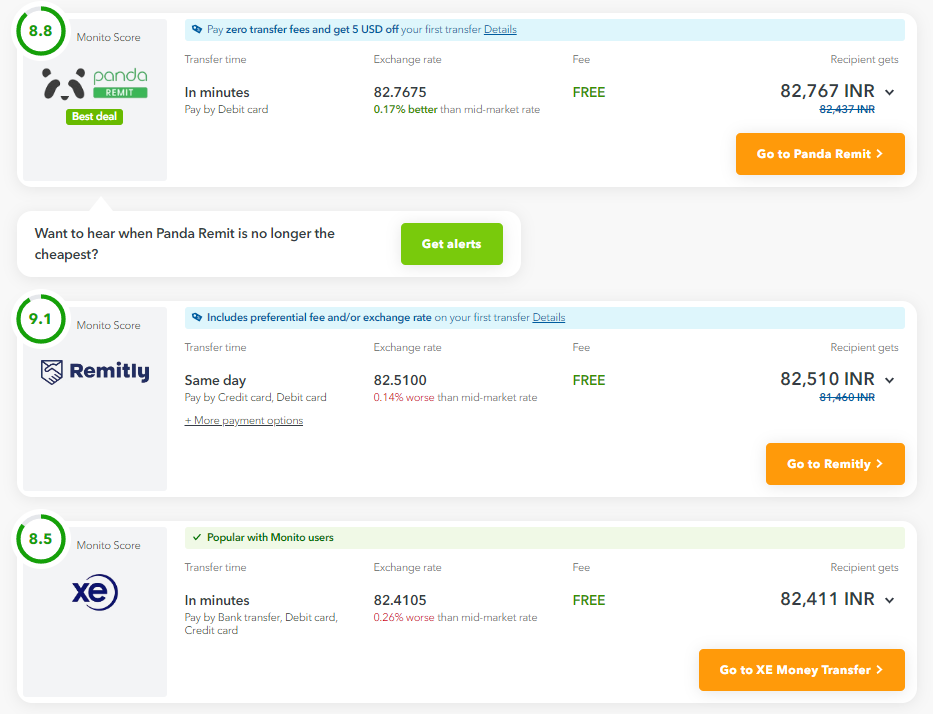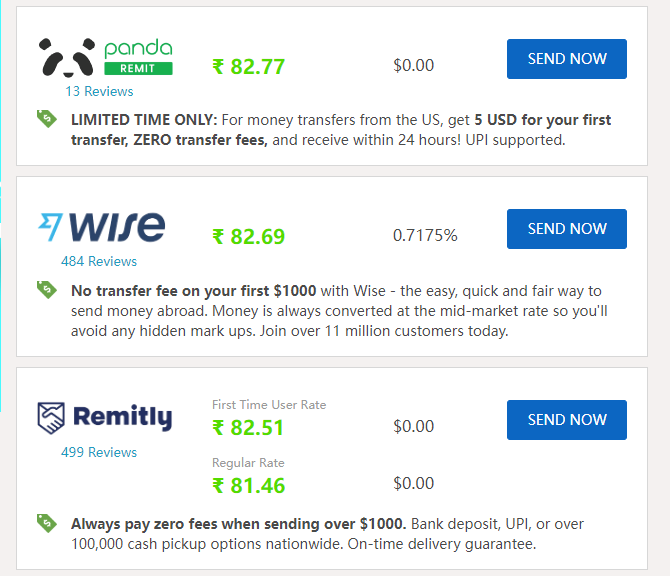 4.Funds Arrive In Short Time
The users of Panda Remit are expected to receive the funds within a short time for some of the recipient countries which is extremely competitive. It's unbelievable that users are able to transfer money and complete remittances within a few minutes or a few hours.
The following are Panda Remit's most popular remittance countries
| | |
| --- | --- |
| Recipient Countries | Timeframe Of Receive Funds |
| Thailand (THA) | Immediately OR up to 0.5 Business Day |
| Malaysia (MYR) | Immediately OR up to 1 Business Day |
| Philippines (PHP) | Immediately OR up to 0.5 Business Day |
| India (IND) | Immediately OR up to 0.5 Business Day |
| Indonesia (IDR) | Immediately OR up to 1 Business Day |
| Canada (CAN) | Immediately OR up to 0.5 Business Day |
5.Multi-Payment Methods
Panda Remit App supports a variety of currencies and payment methods and aims to assist users to spend a small amount of time sending money all over the world for the price of a cup of coffee.
The following are the effective payment methods of Panda Remit.
Send money from Australia to other countries
POLI Payment;
PayID Payment;
Manual Bank Transfer
Send money from The United States to other countries
Visa Card;
Mastercard ;
UPI
6.Variouse Supported Currencies
Panda Remit supports more than 30 currencies
| | | | |
| --- | --- | --- | --- |
| CNY | USD | IDR | KES |
| AUD | CAD | INR | MAD |
| NZD | MXN | THB | KIP |
| KRW | JPY | PHP | FJD |
| HKD | EUR | NPR | TWD |
| MYR | GBP | VND | DKK |
| SGD | NOK | BDT | CZK |
| PLN | BGN | LKR | PKR |
Therefore, Panda Remit is one of the best Money Transfer Apps that are easy to use and trustworthy. It's providing diversified currency with a LOW FEE and Competitive exchange rates, which is highly recommended if you are looking for a money transfer App, especially for those who want to transfer money from Australia, the United States, Canada and New Zealand.
About Us - Panda Remit
Panda Remit is a cross-border remittance online platform, which is committed to providing global users with safer, more convenient, reliable and affordable online cross-border remittance services. With user-friendly interface and advanced security features, Panda Remit is the best solution for anyone looking for a hassle-free way to make global remittance.
Panda Remit has the following features:
1. High safety degree - One of the key features of Panda Remit is its advanced security measures
All transactions are encrypted and monitored 24/7 to ensure the safety of your funds. What's more, Panda Remit uses state-of-the-art fraud detection technology to prevent unauthorized access from your account.
2. Convenient transfer environment - Panda Remit is equipped with currency calculator
The platform is available on Panda Remit official website or Panda Remit app, so that you can easily access your account and make transactions on-the-go. And users can transfer money in a variety of currencies,including US dollars, euros, HK dollars, pound, yen, etc,. Furthermore, it is also worth noting that Panda Remit provide 24/7 Chinese customer service, providing a familiar and intimate environment for overseas Chinese.
3.Simple operation process - Panda Remit has a user-friendly interface that makes it easy to navigate and use
Moreover, whether you need to pay bills or send money to friends and family in other countries, you just need to simply follow the operation tutorial provided by Panda Remit to create an account, link your bank account or credit card, and then you're ready to tranfer money globally. With just a few clicks, you can successfully send money to anyone, anywhere in the world you want.
4. Instant transfer - Panda Remit provides a quicker way to transfer money globally
Panda Remit is not only secure and convenient, but it is also fast. It allows for instant transfers between Panda Remit users, eliminating the need for waiting periods or processing times as much as possible. This feature is especially beneficial for people or businesses that require quick and efficient cross-border remittance.
5. Low handling fee - Panda Remit offers a range of exchange rates benefits to users
Panda Remit also offers competitive price compared to traditional remittance methods and other apps of the same kind. Thus, users can enjoy low transaction fees and competitive exchange rates and get high amount received when transferring money globally, which makes Panda Remit a cost-effective solution for individuals and businesses alike. Plus, the system would give coupons to first-time users.
In conclusion, Panda Remit provides a simpler and efficient online gloabl remittance way that offers a range of features and benefits to users. Nowadays, Panda Remit have opened global remittance service for more than 30 countries or regions worldwide, and helped users save nearly 100 million dollars in fees, which deeply recognized and trusted by millions of users around the world.
Panda Remit is the perfect solution for you to make cross-border remittance.
Please visit the Panda Remit official website or download the app, Panda Remit, for more detail information.