Get the Answers to Your Questions About Online Money Transfers
GPT_Global - 2023-06-14 13:00:02.0 50
What personal information do I need to provide for an online money transfer?
The internet has made it easier to send money internationally than ever before, but the process can be daunting for first time users. One of the biggest questions is: what personal information do you need to provide for an online money transfer?
The good news is that in most cases, transferring money or making a purchase online requires only basic information. Generally speaking, sending money through an online remittance service requires that you provide your name, email address, date of birth, and phone number. You may also be asked to confirm your identity with a driver's license, passport, or government ID.
In addition, you will usually be asked to provide the recipient's name, the amount you're sending, and the destination country. You might also be requested to provide the recipient's address, phone number, email address, and/or bank account details, depending on the service you are using and the type of transfer you are making.
Before initiating the payment, be sure to double-check all of the information you provide. Making a mistake when entering data can result in significant delays or even complete failure of the transaction. Before you transfer funds online, make sure you read all instructions carefully and thoroughly.
Online money transfers are becoming increasingly popular due to their convenience, speed, and reliability. By using a reputable remittance service and verifying all details carefully, you can rest assured that your money is in safe hands.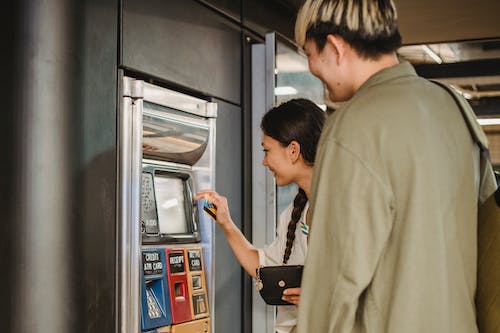 Are there any extra safety measures I should take when transferring money online?
Are you thinking about transferring money online? If so, it's important to remember that there are extra safety measures to consider when doing monetary transactions over the internet. Here is some advice for transferring money online safely and securely.
The first step is to use a reputable remittance business. Look for a company that uses the latest encryption technology to protect your data. Make sure to do some research about the company's reputation and customer reviews to ensure that your money and personal information is secure.
Next, it is advisable to use a secure payment method. Choose a method that has multiple layers of security. For example, credit cards are more secure than bank transfers since they often come with additional fraud protection. Additionally, avoid storing financial information such as credit card numbers on websites.
Finally, it is important to monitor your financial accounts on a regular basis. Keep track of all transactions that have taken place in your account and make sure to alert your remittance business immediately if you notice any suspicious activity.
By following these steps, you can ensure that your money is safe and secure when transferring online. Before making any online transactions, make sure to take the necessary safety measures to protect your valuable data.
How do I know which online money transfer service is best for me?
Sending money abroad has become an increasingly popular process, but there are many different online money transfer services to choose from. With so many options, how do you know which is the best for you?
The key to choosing the right online money transfer service for you is understanding your requirements and comparing different services available. The amount of money you're sending, the currencies involved, and the speed at which you need your money to arrive, are all factors to consider.
Researching providers is also important, as some services may have hidden fees or charges. Make sure to read the terms and conditions of every service before making any decision. Look for customer reviews online, paying particular attention to comments about customer service and how quickly complaints were dealt with.
Other features to look out for include competitive exchange rates, ease of use, and security. Different providers offer a range of benefits, so it's important to select the option that fits your individual needs.
For those looking to send money abroad, selecting the right online money transfer service can be a daunting task. However, by understanding your specific requirements and researching your options thoroughly, you can find the service that best fits your needs.
Are there any taxes assessed on online money transfers?
at the end.
When transferring money, it is important to be aware of any taxes assessed for online money transfers. The good news is that for most people, no tax is required when sending funds online. There are certain rules and regulations that may apply depending on the amount sent, the country to which the payment is being sent, and other factors.
It is always a good idea to check with your financial institution or local governing agency to make sure you understand any taxes associated with online money transfers. Generally speaking, money transfers between countries are not subject to taxes, nor is the sender usually required to pay taxes to the government from which they are sending the money. This is true for most online remittance companies as well.
If sending money internationally, the receiving country might impose specific taxes and clearances that must be fulfilled in order to complete the transaction. It is best to investigate the tax laws in the foreign nation and prepare accordingly. The same is true for sending money domestically, though taxes may be more likely to be incurred in these cases.
For the most part, online money transfers are tax-free. However, it is always a good idea to check with your remittance service provider or financial institution to make sure you are aware of any applicable taxes. Overall, online money transfers are a convenient and efficient way to send money without having to worry about taxes.
Can I set up recurring payments online?
Sending and receiving payments online is faster, easier and more secure than ever before. But if you are constantly making payments to the same recipient, you may want to consider setting up recurring payments for your remittance business.
Recurring payments are automated payments that are regularly sent out to the same recipient. You can set them up to be sent daily, weekly, monthly or on any other specific schedule. Recurring payments can save you time and money, by eliminating the need to manually send each individual payment.
Fortunately, setting up recurring payments for your remittance business is easy to do. Most online payment services offer recurring payment features, which allow you to quickly and easily set up the payments with a few clicks. You simply select the recipient, enter the amount to be sent and the payment frequency, then you're all set!
Additionally, many online payment services provide customization options for recurring payments. This means you can change the amount to be sent, the payment frequency or even the recipient. This can be especially useful if you have to change the recipient of a recurring payment, such as when dealing with a large number of customers.
In conclusion, setting up recurring payments online is an easy and efficient way to manage remittance payments. Thanks to modern technology, you can enjoy the convenience of automated payments with just a few clicks.
Are online money transfers available across all countries?
Money transfers across countries help to support families and businesses around the world, but navigating the process of sending money abroad can be challenging. Fortunately, online money transfers are available in many countries, providing an efficient, secure and cost-effective way to move money through international borders.
Online money transfers provide an easy way to transfer funds from a sender to a recipient with just a few clicks. Most services will ask for identification before completing a transfer, as well as answer questions about the purpose of the transfer. All you then need to do is select the amount of money you'd like to send and choose your payment method.
Online money transfers are typically much faster and more reliable than traditional methods, such as physical cash or check. In most cases, the funds are available instantly – and in some instances within minutes – to the recipient, offering peace of mind for both the sender and receiver. Additionally, there are services that offer competitive exchange rates and low fees.
When selecting an online money transfer service, it is important to do your research and compare different providers. Many providers have different fees and exchange rates associated with particular countries. It is also important to consider the security measures in place to ensure that your information is protected.
Online money transfers are generally available across numerous countries and offer an easy and convenient way to move funds between individuals and businesses. By taking the time to compare different providers, you can find the right service to suit your needs.
Is there a way to dispute an online money transfer if something goes wrong?
Yes, you can dispute an online money transfer if something goes wrong. As a money remittance business, it is important for us to ensure that all our customers' transactions proceeds are handled securely and safely. Therefore, we have developed a secure and reliable system to handle all your online money transfers with ease.
Our system includes a dispute policy where customers can file a dispute in case of any discrepancy. Our policy outlines the steps to take, the timeline to follow, and the documents required to initiate a dispute. This ensures that customers are able to claim their funds in the event of any wrong transfer or delays and we are equipped to resolve the issues as soon as possible.
To make sure our customers have a hassle-free process when initiating a dispute, our customer service team is available 24/7 to guide them through the entire procedure. We provide quick resolutions in case of a delay or discrepancy in any of the customer's transactions. All in all, our dispute resolution process promises complete convenience to our customers in terms of safe, secure, and reliable money transfers.
Are mobile apps available for online money transfer services?
Online money transfer services make it easy to move funds between different countries. However, the use of mobile apps has made these services even more convenient and accessible.
Today, many popular online money transfer services offer specialized mobile apps for Android and iOS devices. These apps give users the ability to send and receive money without requiring a computer or laptop.
Using a mobile app for online money transfers is fast and easy. Most services allow users to instantly send funds to other users via their mobile phone. Furthermore, users can often track their transactions in real-time and view their transaction history.
Many online money transfer services also offer additional features such as notifications, multi-currency support, and the ability to pay bills and recharge prepaid phones. All of these features make it easier for users to manage their funds and quickly send payments.
In addition, mobile apps for online money transfer services are secure and encrypted. This ensures that the sensitive data associated with money transfers remains safe and secure.
Overall, mobile apps are a great way to stay connected to your online money transfer service and make it even easier to manage funds on the go. With the convenience and security of these mobile apps, online money transfers can be done with the touch of a button.
About Panda Remit
Panda Remit is committed to providing global users with more convenient, safe, reliable, and affordable online cross-border remittance services。
International remittance services from more than 30 countries/regions around the world are now available: including Japan, Hong Kong, Europe, the United States, Australia, and other markets, and are recognized and trusted by millions of users around the world.
Visit Panda Remit Official Website or Download PandaRemit App, to learn more about remittance info.